Here, the current (Io) is measured with the output shortcircuited.
Figure 2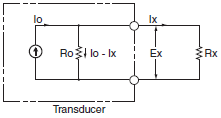 Ro: Output impedance [Ω]
Rx: Load resistance [Ω]
Io: Output current (output terminal short-circuited) [A]
Ix: Output current (with load Rx connected) [A]
Ex: Output voltage (with load Rx connected) [V]
Next, the output current (Ix) is measured when a load resistance (for example, the maximum value of the permitted load resistance of a transducer) is connected. The measured values Io and Ix and the value of the connected load resistance (Rx) are inserted into Equation (4), and the output impedance (Ro) of the transducer is calculated. The output impedance of the transducer introduced here is the value for normal operation.