(1) Reduced Wiring Work and No Torque Management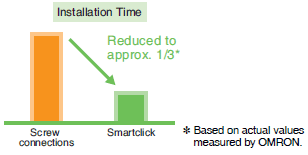 Because connection is completed with approximately 1/8th of a turn, installation time is reduced. Also, you can confirm the completion of connection with the visible marks.
(2) No Periodic Retightening
Thanks to the bayonet lock structure, machine vibration does not loosen the connector, eliminating the need for periodic retightening.
(3) Work Procedure Standardization
The distinct clicking sensation when the connector locks prevents insufficient tightening.
(4) Compatible with M12 Screw Connectors
XS5 Smartclick Plug
Connector
M12 plug connector
XS5 Smartclick
Socket Connector
Twist-and-click
connection
Screw connection
M12 socket
connector
Screw connection
Screw connection
Even with existing equipment that uses M12 screw connectors, you can connect any combination of connectors.
* When a Smartclick Connector is connected to a screw connector, the connector is screwed on to make the connection.