Example for S8FS-G series
Series Operation
Two Power Supplies can be connected in series operation.
Note 1.The diode is connected as shown in the figure. If the load is short-circuited, a reverse voltage will be generated inside the Power Supply. If this occurs the Power Supply may possibly deteriorate or be damaged. Always connect a diode as shown in the figure. Select a diode having the following ratings.

Note 2.Although Power Supply having different specifications can be connected in series, the current flowing through connected in series, the current flowing through the load must not exceed the smaller rated output current.
<Making Positive/Negative Outputs>
The outputs are floating outputs (i.e., the primary circuits and secondary circuits are separated). You can therefore make positive/negative outputs by using two Power Supplies. You can make positive/negative outputs with any of the models. If you use positive/negative outputs, connect two Power Supplies of the same model as shown below. You can combine models with different output capacities and output voltages. However, use the lower of the two rated rated output currents as the current to the loads.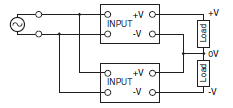 Depending on the model, internal circuits may be damaged due to startup failure when the power is turned ON if loads such as a servomotor or operational amplifier may operate in series.
Therefore, connect bypass diodes (D1, D2) as shown in the following figure. If the list of models that support series connection of outputs says that an external diode is not required, an external diode is also not required for positive/negative outputs.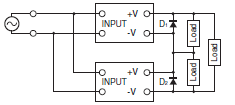 Use the following information as a guide to the diode type, dialectic strength, and current.