Ambient atmosphere
To maintain operational reliability and prolong product life, do not use at temperatures in excess of the rated temperature, and do not use outdoors.
The ultrasound sensor uses air as the transmission medium. Local temperature differences may cause reflection and refraction at the boundary and air flow may cause the detection area to change, which will result in incorrect operation. Avoid using the sensor in locations with an air curtain blower or other similar machine.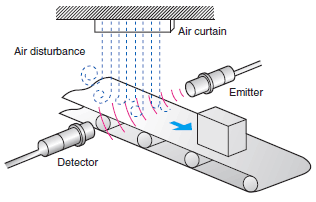 Do not use near any kind of air nozzle, as the jet sound produced by the nozzle contains multiple frequency components and will affect ultrasound detection.
Water drops on the sensor surface (Emitter and Detector) will decrease the detection distance.
Detection is not possible of sound absorbent materials such as cotton and powder. (Reflective models)
At low temperatures (0°C or less), the vinyl cable will harden and the wires may break if the cable is bent. Do not bend a Standard or Robot Cable at low temperature.