Play Video
Openness meets Automation Control
Consumers are now demanding more than low prices. They want good quality, attractive texture, and functionality - all available at a reasonable price. To meet all these requirements, manufacturing sites must be reformed. A shift is made from the previous focus on improving machine cycle times and precision to control of manufacturing systems using data collected from production lines through Internet of Things (IoT).
Omron's Industrial PC Platform has been designed to adapt to changes in the manufacturing environment.
What is Omron's Industrial PC Platform?
The future will be IT driven: Omron's IPC Platform will make you part of it through the combination of high-speed, high-precision machine control and data handling.
Just imagine future manufacturing:
Smooth linkage and coordination between machines on a production line enable the planned recipes and schedules to be reflected in actual production processes. Operators can take advantage of a secure operating environment created through an intuitive HMI and PC-based technologies such as face recognition. Production data is collected at high speed and analyzed to reflect on future production plans, which leads to productivity and quality improvements across the whole production line.
The intent behind our IPC Platform is to empower engineers to make future-proof machines that are better, faster and safer - while at the same time giving them the freedom and flexibility to explore new opportunities provided by modern ICT technology.
Our IPC is designed specifically for industrial machines and manufacturing usage, to make them innovative, yet reliable. Its architecture is highly modular and flexible, so it provides the ability to adopt new functionality swiftly and reliably.
This platform is designed to grow with future market trends and customer needs.
Find the perfect combination to suit your needs
A wide choice of controllers are available to match your requirements. Omron's Industrial PC Platform is not just a hardware product. Software that shares our control expertise gained over many years can be installed on the platform to create dedicated controllers that meet market requirements.
Note. Some combinations may not be available. Consult your Omron sales representative for details.
Choose from three different types
You can choose a type to suit your system from three different types: box PC, monitor, and PC with integrated monitor.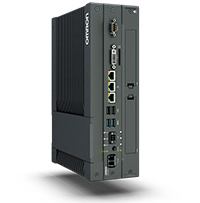 PC in a box
Industrial Box PC
Display and touch interface
Industrial Monitor
Combines PC and monitor
Industrial Panel PC
Intel® CPU
You can select the type of Intel ® CPU that meets your requirements such as graphics creation and data processing speed.
The IPC's modular and flexible architecture using a general-purpose processor allows you to leverage cutting-edge ICT technology. The future-proof platform has the potential to continuously create innovative manufacturing solutions.
Intel® Xeon® E3-1515M v5 Processor 6th generation CPU (4 Core)
Intel® Core™ i5-7300U Processor 7th generation CPU (2 Core)
Intel® Celeron® 3965U Processor 7th generation (2 Core)
Intel® Core™ i7-4700EQ Processor 4th generation CPU (4 Core)
Intel® Core™ i5-4300U Processor 4th generation CPU (2 Core)
Intel® Celeron® 2980U Processor 4th generation CPU (2 Core)
Three different product types available
Suitable for applications in factory automation environments
Industrial PC
The Industrial PC comes equipped with Windows operating system, making it ideally suited to visualization, data handling, measuring, and controlling.
No internal cables and no complex heatpipes. Our Industrial PC has been designed from first principles to be powerful, reliable and scalable.
In line with Omron's traditional quality standards, the Industrial PC is designed to meet the demands of industrial users for maximum robustness and reliability.
Simplicity maximizes performance
We've simplified the design and build to eliminate faults caused by complexity and, with other unique design features, to maximize uptime and reduce costs.
All maintenance sensitive products (HDD/SDD, fan, battery, and PCIe Card) can be easily reached from the outside of the system. No need to open the electronics compartment, less risk on failure.
Windows operating system *
Windows Embedded Standard 7 - 32 bit
Windows Embedded Standard 7 - 64 bit
Windows 10 IoT Enterprise LTSB - 64 bit
* For the no operating system models, consult your OMRON sales representative.
Outline of Industrial Box PC
Designed specifically for machine usage
IPC Machine Controller
The IPC Machine Controller combines the precision and utility of the proven Sysmac platform with the versatility and range of Windows programs. The two platforms operate simultaneously but separately, so if Windows is down, the machine just keeps on working.
The integrated development environment software Sysmac Studio allows you to program the controller in familiar languages, Ladder and Structured Text.
As a result, engineers become unstoppable - empowered to explore manufacturing innovation by leveraging big data, NUI (Natural User Interface) and IoT (Internet of Things) initiatives, all without compromising proven PLC reliability and robustness.
Perfect fusion: Sysmac machine control and IT technology
Machine automation control software can be used in combination with Windows operating system on an industrial PC.
We use partitioning, so that both operating systems can work independently: if Windows is down, the machine is not affected.
The Sysmac automation platform uses EtherCAT®, standard machine network, to connect servo drives, I/O devices, and other field devices and provide high-speed, high-precision control.
The IPC Machine Controller comes equipped with an EtherCAT® port and an EtherNet/IP™, standard factory network, port. The two networks with one connection purpose is the perfect match between advanced machine control and management of your automation plant.
Integration of the IPC Machine Controller with a wide range of our ILOR+S (Input, Logic, Output, Robotics, and Safety) devices within our one connection concept enables you to create your own solutions.
Factory
automation network
Real-time
machine network
Real-time
machine network
Big data
MES/ERP/SQL Database
IPC Machine Controller
Sysmac Integrated Platform
Horizontal integration
Controller
Visualization
Industrial Monitor
Motion
1S Servo System
MX2 Inverter
NX I/O
Photoelectric
sensor
Photoelectric
sensor
Proximity sensor
High-speed, high-precision motion controller plus PC - in one box
IPC Programmable Multi-Axis Controller
The IPC Programmable Multi-Axes Controller offers exceptionally precise motion control, with proven technology from Omron's Delta Tau Data Systems, Inc. It was developed to help manufacturers boost both their productivity and their manufacturing quality, delivering world-beating*1 output speeds allied to exception precision. It comes equipped with Windows real-time operating systems which, combined with powerful control capability, provides exceptional flexibility. And it's not just superior motion control: it also enables the creation of high-resolution graphics as well as customized applications for high-end production requirements. The system can perform predictable motion control while running intensive data-handling applications and, uniquely, will continue with motion control tasks even if the OS stops working.
High-speed multi-axis control
Up to 128 axes of control. Motion control period: 250 μs/16 axes*2
Multi-tasking of Motion Control and Windows applications. Hypervisor*3 software for uninterrupted control even if Windows is down
Flexible function development capability (G-Code/ANSI C/original programming language). EtherCAT for flexible system configuration
Programmable Multi-Axis Controller
The Programmable Multi-Axis Controller has been developed by US-based Delta Tau Data Systems, Inc. to deliver the world's highest level*1 of multi-axis control performance.
Providing the high-speed processing capability to perform precise linear motor drive control and nanometer positioning that require ultra fast responses, the Programmable Multi-Axis Controller is appreciated by manufacturers of semiconductor manufacturing equipment and other products employing leading-edge technologies.
Through working together with Delta Tau Data Systems which joined the Omron Group on September 1 2015, Omron will further advance automation technologies in an ever-changing manufacturing environment to help manufacturers improve productivity and manufacturing quality.
Visualization
Industrial Monitor
System Configuration
Controller
IPC Programmable
Multi Axis Controller
IDE
(Integrated Development Environment)
Develop, debug, and test programs
developed in original programming
language or in C language.
*1. Refers to the motion control performance of 16.6 μs/1 axis or 50 μs/8 axes (Omron survey as of July 2016).
*2. Reference value.
*3. Software avoids mutual interference by appropriately assigning IPC hardware resources (ports, CPU core, etc.) to OS. Machine control task is not interrupted even if a Windows OS crashes.
Hardware suitable for industrial applications
Leveraging our rich experience in automation, we have designed hardware suitable for applications in industrial environments.
Unnecessary complexity causes problems, so we've eliminated it totally, to maximize performance.
Module, including processor and memory, performs data processing
Optional interface module (RS-232C, DVI, etc.) can be mounted
Standard interface ports (Ethernet, USB, etc.) are surface mounted
Expansion interfaces (HDD and PCI) can be connected using connectors
Unique simplified thermal design
The model with a fun unit features active cooling and air-flow isolated from the electronics.
Industrial Box PC - versatile installation
The Industrial Box PC can be mounted in two positions, book mounting or wall mounting, using the dedicated mounting bracket. You can choose a suitable position and orientation for your system.
The IPC platform comes with a range of industrial interfaces.
Connections
Options: RS-232C, extra DVI-D for dual monitor, NY Monitor Link or GigE LAN
PCIe Card Slot Half-length card (x1 or x4 depending on CPU)
SD Memory card slot (2.0 spec and up to 32 GB)
DVI
3x RJ45 Gigabit Ethernet ports
CFast card slot *
2x USB2.0, 2x USB3.0
Choice of storages devices:
HDD or SSD (MLC and long-life SLC types) Second drive option
I/O connection prepared for UPS connection
Power supply: 24VDC non-isolated
* an optional CFast Card slot is located at the rear side of the base layer.
The touchscreen controller can detect nonstandard actions such as false touches, palm rejection, water and cleaning - even if the user is wearing gloves*.
* When using gloves, ensure to use gloves that are functional with this touchscreen.
Long-term supply stability
Omron has manufactured and provided more than 100,000 different specifications of products over 80 years, aiming to improve productivity in manufacturing. To keep control devices working stably for a long period of time, we are using our technical skills and knowledge obtained over the years to build and provide reliable products including industrial PC - selecting parts that ensure long-term supply stability*, testing products for stability, and providing technical support.
* 5 years after release. The maintenance (including upwardly compatible replacement) period is 7 years after discontinuation.
All maintenance sensitive products (HDD/SDD, fan, battery, and PCIe Card) can be easily reached from the outside of the system. No need to open the electronics compartment, less risk on failure.
Replacing the fan unit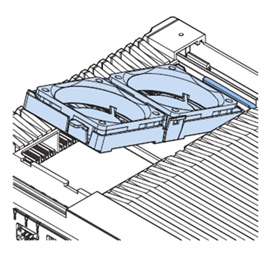 Replacing the battery
Replacing the drive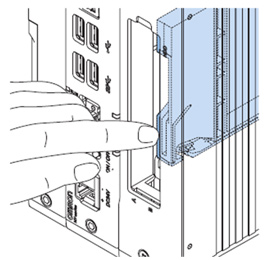 Replacing the PCIe card
Industrial Box PC was awarded the Red Dot Award 2016 in the category 'computers'. The Red Dot design award has been presented by the Design Zentrum Nordrhein Westfalen since 1955. It is one of the best-respected design competitions in the world, along with the iF award (Germany) and IDEA (the United States).
Industrial Box PC was awarded the Good Design Award 2017. The Good Design Award has been a sole comprehensive design evaluation and commendation system in Japan since 1957. Many companies and designers from both inside and outside of Japan participate in this activity to enhance their industry or quality of life through design.
Industrial Monitor won the iF Design Award 2016. The iF Product design Award, presented by Hannover-based International Forum Design GmbH, is one of the world's most prestigious design awards.
Industrial PC platform software
Utilities and other software are pre-installed on the Industrial PC Platform and can also be downloaded from Omron website.

The future of control with Omron's Industrial PC Platform

- Information is the new currency -
The NY Industrial PC Platform is designed to empower engineers to explore manufacturing innovation by leveraging Big Data, Natural User Interfaces (NUI), and the Internet of Things (IoT), while also enabling the installation of simple standard software tools and widgets. They can do this without compromising either PC performance or the established reliability and robustness of machine control, thus maximizing machine uptime. We give you the freedom to install your own software on a PC platform you can trust.
Manufacturers recognize the importance of dialog: between machines; between machines and their operators; between machines and their environment; and in the future maybe even between machines and the products they make. That's what makes information the new currency, and why it lies at the heart of future machine design.
Engineers already start thinking about it, using familiar IT programming and widgets. Our IPC platform is just the enabler, a trustworthy foundation to build their own ideas on.