FAQ03194 of Thumbwheel Switches FAQ
Question
What are Switches with a Component-adding Provision?

The component-addition provision allows resistors or diodes to be inserted in the circuit before the output terminal.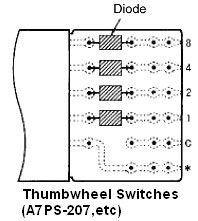 You can use terminals for the component-adding provision as ordinary solder terminals by using a conductor or similar means to short-circuit the appropriate locations instead of using resistors or diodes.