FAQ02462 of Emergency Stop Switches FAQ
Question
How do I replace the LED for Lighted A165E Emergency Stop Switch?

Replace the LED by separating the operation unit and the socket unit with A16Z-5080 Socket Unit lamp Extractor. Refer to the following steps 1 to 3 for the replacement procedure.
1.Removing the Socket Unit
Insert A16Z-5080 Extractor into the case guide slot shown in figure below and pull the socket unit straight out while pinching it with the Extractor.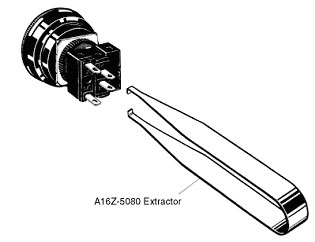 2.Mounting the LED
The following figure shows the mounting direction. Insert the LED so that the protrusions on the LED line up with the narrow guides on the socket unit.
3.Mounting the Socket
Mount the socket unit into the operation unit. There is a specific direction for assembling the operation unit and the socket unit. Assemble the two together with the circle mark on the operation unit aligned with the L engraved in the case guide slot and press until you hear a clicking sound. Also make sure there is no lifting or other problems.