FAQ00716 of Level Switches FAQ
Question
How do you mount F03-05 Electrode Band?

Use the following procedure to mount an Electrode Band.
Screw the Electrode Band connecting nut into to the electrode nut inside the electrode section and secure with the clamp screws. Insert the Electrode Band into the lower hold of the connecting nut, and tighten the two clamp screws so that the conductor in the Electrode Band will come into contact with the connecting nut. Then mount the Electrode Holder to the electrode section and secure them with two mounting screws, and put the drip-proof cover on top.
Mounting Electrode Band Weights
To mount an Electrode Band Weight on an Electrode Band, firmly tighten the two screws A or B. The needle screws will come into contact with the electrode wire conductor) allowing the Electrode Band Weight to become an electrode plate. (Be sure to use screw holes A or B.)
The Electrode has guides for connecting screws as shown by the arrows below so that connecting screws can be properly inserted into the conductor.
Install Electrode Band Weights in three positions at different heights. The Electrode Band Weights work on the E1, E2, and E3 electrodes, allowing the Electrode Band to detect high, medium, and low levels of liquid.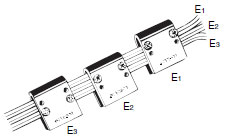 Cover each Electrode Band Weight with an Insulation Cap so as to prevent false detection due to contact between the electrode and tank. Deform the Insulation Cap to an ellipsoid before installing it on the Electrode Band Weight.
Cover the Electrode Band end and apply F03-10 Adhesives sold separately to prevent water from entering between the sheath and the End Cap.
Five end caps can be glued with one Adhesive.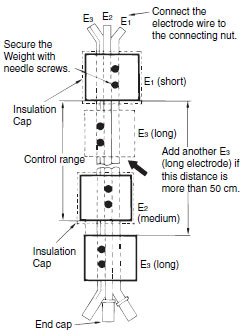 If the distance between the long electrode (E3) and short electrode (E1) in purified city water is more than 50 cm, install other Electrode Band Weights as E3 in the vicinity of E1 at intervals of 15 to 20 cm, referring to Mounting Weight (2) above. An Insulation Cap is not needed for the long electrode.