PT Operation
Transmission of Screen Data
Screen data displayed on the PT is created by a screen creation software on a PC, and is transmitted to the PT through RS-232C, Ethernet, or USB.
Display a screen
Create a content to be displayed (screen data) using a screen creation software on the PC, and transmit it to the PT. A required screen can be displayed upon a command from the host or by touch switch operation.
Read data from host
Connect with the host using a transmission method such as NT link, Ethernet or Controller Link etc., and read required data from the host.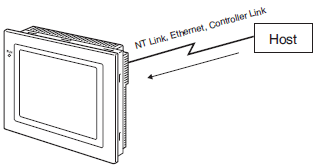 Note: Some models do not support Ethernet or Controller Link.
Send Data to Host
Send data (button ON/OFF status, numerals, and character strings) entered on the touch panel to the host.