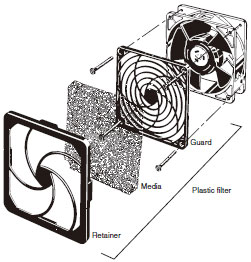 Installation
1. Attach the guard to the Fan using the mounting bolts.
(There are no mounting bolts provided with the Plastic Filter.)
2. With the media held between the retainer and the guard,
hook the retainer to the guard. (The Media and retainer can be
one-touch mounted/dismounted.)
Note:
Use the following model number to order the Media only.
R87F-FL[]-M[] ([]: 120, 90, or 80) (One set containing five Media,
weight: 5 g max.)