FAQ03418 of Photoelectric Sensors FAQ
Question
Are heat-resistant Photoelectric Sensors available?

Yes, Fiber-type Photoelectric Sensors are available with heat resistance specifications. The heat resistance specifications, however, apply to Fiber Units only, and not to Amplifier Units.
Applications
Detecting wafers in high-temperature environments
E32-T61-S Fiber Units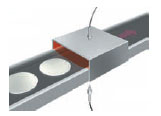 Ratings and Specifications
150°C models
200°C and higher models
E32-T81R
E32-D81R
All other models
Min. bending radius
35 mm
10 mm
25 mm
Fiber material
Plastic (fluororesin coating)
Glass (fluororesin coating)
Glass (SUS spiral coating)
Overview of Model Variations
Type
Ambient temperature range
Features
Shape, sensing distance (mm)*
Model number
Through-beam
-40°C to 150°C
M4 screw

760
E32-T51
-40°C to 200°C
L-shaped, long distance

1,300
E32-T84S-S
-60°C to 350°C
M4 screw

450
E32-T61-S
Reflective
-60°C to 350°C
M6 screw

90
E32-D61-S
-40°C to 400°C
M6 screw, with sleeve

60
E32-D73-S
Note:The sensing distances apply for use in combination with the E3X-DA-S Amplifier Unit (general-purpose, standard mode).